CleanRoom Consulting
MicroStat Laboratories offers auditing, training and consulting services in the areas of
Contamination control test methods training
ESD and contamination audits
Customer internal protocol development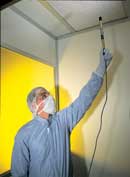 MicroStat Laboratories has extensive experience in cleanroom testing, certification, auditing, product evaluation, product and garment laundering, manufacturing, and distribution in Class 1 to Class 100,000 environments. We utilize our extensive experience in both contamination control and process engineering to bring to you consulting services that will help you build a Quality System designed around the rigors of controlled environments from Class 1 to Class 100,000 levels. We can visit your facility to consult on specific contamination problems. These include particulate, chemical, and electrostatic discharge problems.
We help you design your protocols to comply with existing requirements to ensure the maintenance of peak efficiencies within controlled environments. Your products will then work together to support your business goals as a manufacturer in a controlled environment and to improve performance and subsequent product quality and yield levels.
Contamination Control Audits
This audit will focus only on the aspects of the Quality System that affect contamination control. Areas audited include manufacturing processes and environmental control, cleanroom gowning and protocol, material handling, and cleaning procedures. Often, chronic contamination problems can be solved quickly during a contamination control audit.
Pre-Assessment Audits
Pre-assessment audits can be performed to help our clients prepare for inspections and ISO registration audits. Our audits are performed by a staff that is both knowledgeable in the relevant, quality standards, but we also understand the critical aspects and nature of your manufacturing environment.
ESD Audits
MicroStat Laboratories/River's Edge Technical Service provides complete ESD auditing of your cleanroom environment to assist in developing and managing your ESD control program. Auditing can range from informal surveys of the processes and facilities to a pre-certification review in preparation for a formal certification audit. Click for more details on our ESD Auditing and Facility Evaluation services.
Internal Protocol Development
Contamination audits can be performed to determine if a client's written protocols, training program and actual practices comply with the requirements of in-house procedures, industry standards and end-user specific directives. A free half-hour assessment is available to all new customers and all projects will be bid per the scope of work to be performed.
Expert Witness
Independent expert witness and legal support services are available for depositions, trials and legal requirements on product performance cases.
Contact us for more information and discussion of your cleanroom consulting needs.
Learn More
ESD Testing
ESD Properties and Characteristics We Test For
ESD Standards and Test Methods We Test To
ESD Consulting
ESD Auditing and Facility Evaluation
ESD Resources
Clean Room Consulting
Clean Room Testing
Clean Room Resources
Company Profile
Facilities and Procedures
Confidentiality and Warranties
Fees and Terms
Staff